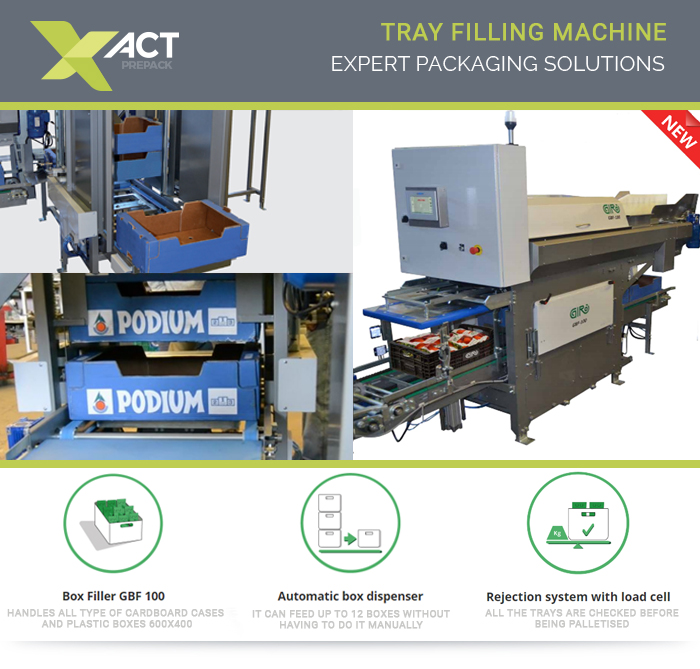 Hello, have you considered an end of line automation system?
Look no further! Our latest Tray Filling Machine (the GBF 100) is designed to reduce labour costs, increase efficiency and replace the old fashioned round table collation method.

Designed for all types of netted products and for use with a variety of tray and box sizes.

RELIABLE. ROBUST. EFFICIENT. QUALITY.
All systems are supported by our team of experienced engineers. Contact Xact today!

TRAY FILLER GBF 100

The GBF 100 is a high speed automatic box filling machine for handling net bags ranging from 500 g to 3 kg. it is designed to be set up at the end of any packing line prior to palletising, therefore saving labour costs. The machine can be customised with the following optional extras:

Rejection system with load cell
A load cell detects boxes that do not meet the target weight range. Parallel or perpendicular side rollers slide the rejected boxes out of line.

Box feeder 6 or 9 unit pile
Automatic box infeed system for the GBF 100 box filler (6 or 9 unit box pile).

Useful Tip
Adding our email address (marketing@xactpack.co.uk) to your Address Book will automatically ensure images are turned on in the emails you receive.
Unsubscribe
If you would like to opt-out of receiving emails at this email address, then please click here to unsubscribe.
Privacy Policy
We are committed to protecting your privacy. Please see our website for data processing practices and your options regarding the ways in which your personal data is used.