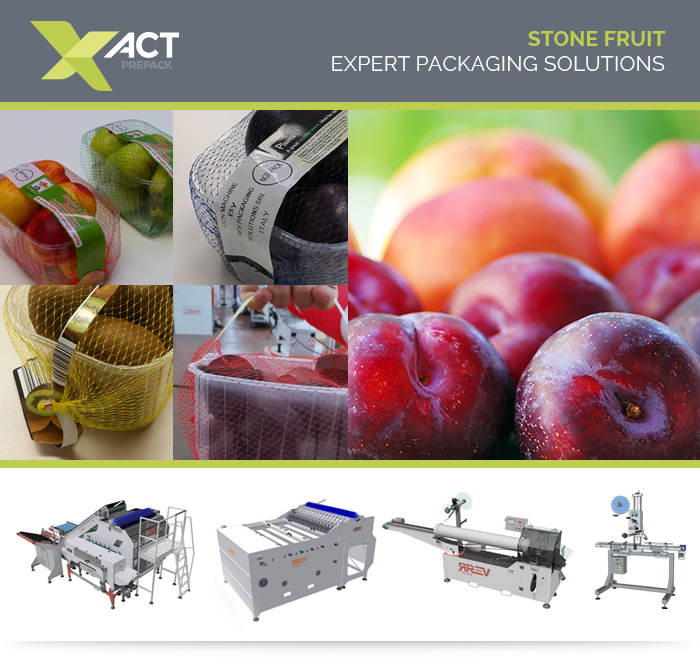 Are you looking for creative packaging solutions for STONE FRUIT?
Look no further! We have complete solutions including punnet net packing machines, delicate weighers and compact labelling solutions.

RELIABLE. ROBUST. EFFICIENT. QUALITY.
All systems are supported by our team of experienced engineers. Read more below!

AUTOMATIC PUNNET NETTING MACHINE

The Rev Spider is an automatic Punnet Netting Machine suitable for any kind of fresh produce packed in punnets in extruded tubular net.

Excellent for packing products such as: peaches, nectarines, kiwi, apricots, plums, tomatoes, avocado, citrus, cherries, pears, grapes, zucchini, carrots, peppers and so on (all products that can be contained in a punnet).

AUTOMATIC WEIGHING MACHINE FOR PUNNETS

The patented Rev Bison is an automatic weighing machine with vibrating channels and pre-containers.

It is suitable for any produce in punnets such as: peaches, nectarines, kiwis, apricots, plums, tomatoes, avocados, pears, etc.

AUTOMATIC WEIGHING MACHINE FOR DELICATE PRODUCTS

The patented Rev Velvet is an automatic weighing machine for delicate products. The 16 vibrating channels handle and sort produce using an innovative multi discharge system with four belts.

The Velvet is great for fresh produce that requires delicate handling such as: apples, pears, apricots, peaches, nectarines, kiwis, plums, tomatoes, avocados, onions, garlic and citrus etc.

RELIABLE. ACCURATE. FAST. XACT CHECKWEIGHING SOLUTIONS.

The HSC350 C Series checkweigher is our standard machine suitable for all types of products. This is the compact, modular and cost-effective solution that integrates into the production line when space is at a premium.

The sturdy machine is flexible which means a Metal Detector with display and labelling systems can easily be fitted and thanks to its flat, easily accessible surfaces, the C Series is easily cleaned and sanitised.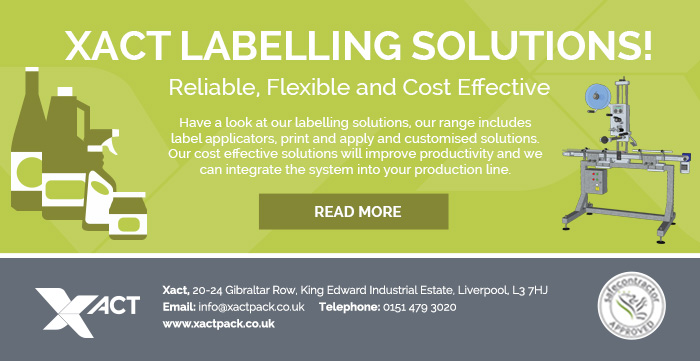 Useful Tip
Adding our email address (marketing@xactpack.co.uk) to your Address Book will automatically ensure images are turned on in the emails you receive.
Unsubscribe
If you would like to opt-out of receiving emails at this email address, then please click here to unsubscribe.
Privacy Policy
We are committed to protecting your privacy. Please see our website for data processing practices and your options regarding the ways in which your personal data is used.